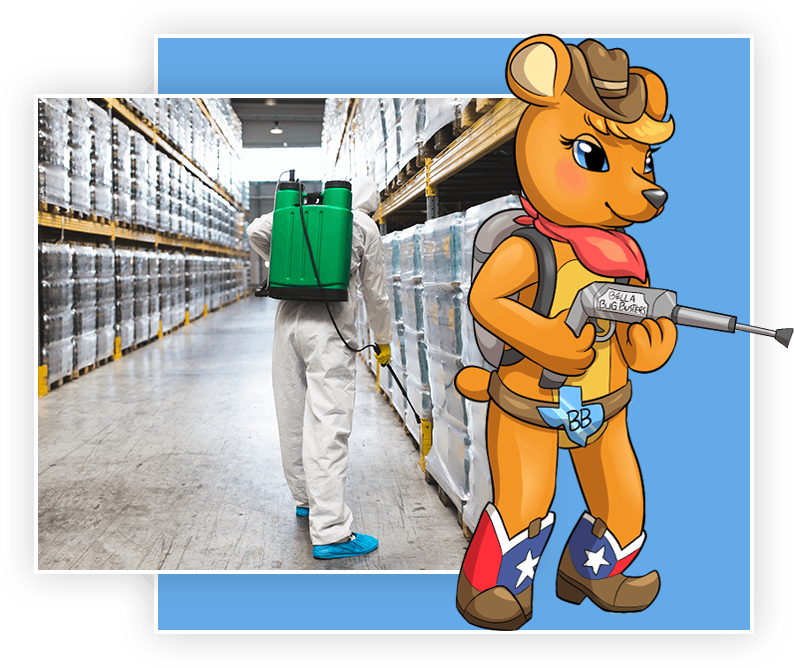 Commercial Pest Control
In Austin, Texas
Protect Your Customers and Reputation
The best in the Business, Bella Bugs Pest Management – Commercial Pest Control in Austin, is committed to protecting your business from pests with experienced technicians. Our specialized service for businesses offers customized integrated pest management services backed with a comprehensive protection plan that will help your business eliminate pests, prevent them from returning, and reduce your business costs. Our technicians are trained according to the American Institute of Baking Food Defense standards and maintain strict compliance with their guidelines. Learn more about commercial pest control services.
Pests Are Always Trying to Invade
Upon our first visit, our expert pest control professionals conduct a comprehensive inspection of your business, checking the five points that pests like to be and can be exposed to your customers. Checking points of entry, water and food sources, customer and employee areas, and places where pests regularly hide, Bella Bugs works with you to expose pests and would-be pests alike.
Pests don't limit themselves to your front door; they find any way to enter your place of business, including windows, vents, plumping, cracks, floors, and even on customers, clients, and suppliers.
A single raisin can feed 580 cockroaches for a day – just imagine what they could do with your average spill and mishaps. Even a minor sanitation mistake can lead to a large pest problem.
Like us, pests need water to survive and actively seek out water sources. Things like water fountains/coolers drain, air conditioner condensation, nearly every kind of plumbing, and stagnating water are all places for pests to get a drink and breed.
Many pests that can destroy a business seek out places to live that are small, dark, and unknown unless you know what to look for. Any little crack or crevice can protect pests from the untrained eye, leaving them free to breed.
A day of business loss because of a failed health inspection is an embarrassment and damaging to your bottom line. If a Customer or Employee falls in, it can spell disaster, which is why it is important that protecting your customers and employees from pests is paramount to your business's success.
Every season and change of weather gives different pests a chance to invade your company locations. Bella Bugs Pest Management will always be there to help identify and protect your business against these threats and ensure the pests stay out of your offices and facilities.
Bella Bugs Pest Management stands by its total service Satisfaction Guarantee for each and every one of our customers – especially you. One of the toughest, if not the toughest, in the industry, we will go above and beyond the call of duty to ensure you and your family are satisfied.
We will retreat areas that you are not satisfied with at no extra charge, redo the inspection of your facilities for pests if you feel we missed something, and we will work to solve the problem.
At Bella Bugs Pest Management, we stand by our word and guarantee.
Learn more about our Austin rodent control services.